Sonoma, Acoustic Sounds team for AXPONA Model One launch
Chicago — April 22, 2017 — Two leaders in playback equipment and hi-res audiophile music content are teaming up to set a new benchmark for great digital and analog sound, making the Sonoma Model One Electrostatic Headphone System the ideal listening system for hi-res content.
Sonoma Acoustics is partnering with Acoustic Sounds of Salina, Kansas, to offer the Model One Electrostatic Headphone System at the AXPONA (Audio Expo North America) high-end consumer audio show being held at The Westin O'Hare in Rosemont, Illinois, from April 21-23, 2017. The M1 system will also be available for preorder through Acoustic Sounds' website at acousticsounds.com, or by calling customer service at 800-716-3553.

The M1 system will be in use with Analogue Productions Ultra Tape reissues and Acoustic Sounds Super HiRez download files in both Room 404 by Sonoma Acoustics, as well as at the Acoustic Sounds marketplace booth!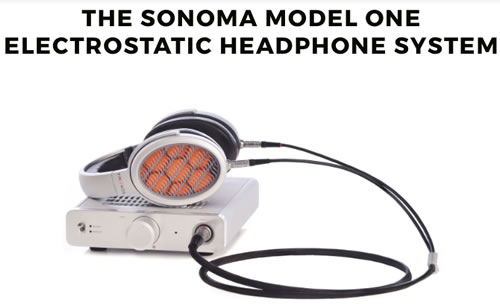 "We've known Chad Kassem, the owner of Acoustic Sounds, since the days when we were all working on the Super Audio CD (SACD) project at Sony," said David Kawakami, GM, Sonoma Acoustics. "Back when record retailers weren't giving us the time of day, Chad stepped up and made SACDs available to audiophiles through Acoustic Sounds. Now he's helping us again by offering the Model One to early adopters while we build our
distribution."

The Model One is the first electrostatic headphone system to utilize the revolutionary High-Precision Electrostatic Laminate (HPEL) transducer developed by Warwick Audio Technologies in the UK. In addition to being shown and demonstrated in Room 404 by Sonoma Acoustics, it will also be on display in the Marketplace at Acoustic Sounds. Sonoma Acoustics has just begun shipping its first production units of the M1 in the US, UK and Japan. The MSRP for a complete M1 system is $4,995 in the US.

"I've been working with David and Gus since the beginning of the SACD days," said Kassem. "All they're about is the highest quality. David was the head cheese and driving force behind SACD. Gus is a big part of our team with tape, our Super HiRez files and recording our Blues Masters concerts in DSD. Basically, working with these guys is an easy decision for us."

Skinas, of the Super Audio Center in Boulder, Colo., is a long-time associate of Acoustic Sounds, authoring hi-res files for SACD production via the Sonoma DSD workstation, as well as prepping DSD files for distribution via the Acoustic Sounds Super HiRez website. He also supervises and produces the transfers in real time for Acoustic Sounds' Analogue Productions Ultra Tape reissue series. Using ATR-modified Ampex Tape Machines with flux magnetic heads at Blue Heaven Studios in Salina, Kansas, each Ultra Tape is a 15-inch-per-second, ¼-inch analog tape copy produced from a safety master of the original analog master tape. Ultra tapes come packaged in deluxe, custom-designed slipcase covers, and are priced at $450 a copy.

Sonoma Acoustics Inc. is a new company founded by members of the SACD Project to design, manufacture and sell audio playback equipment that is optimized for hi-res music listening. The company is based in Boulder, Colorado.

Starting from his apartment in 1986, Chad Kassem has built Acoustic Sounds into the world's leading provider of audiophile vinyl LPs, SACDs, reel-to-reel master tape reissues, DSD/PCM hi-res downloads and high-end playback equipment. The company is owned and operated by Chad Kassem and is located in Salina, Kansas.

* * *

For more information on Sonoma Acoustics, please visit www.sonomaacoustics.com
For more information on Acoustics Sounds, please visit www.acousticsounds.com

For more information on the Model One Electrostatic Headphone System, please contact: David Kawakami at david@sonomaacoustics.com

For more information on HPEL transducers, please contact: Martin Roberts at m.roberts@warwickaudiotech.com

Sonoma™ and its logo are trademarks of Super Audio Center LLC, Colorado, USA and are used under license. HPEL is a patented technology developed and licensed by Warwick Audio Technologies Ltd., Henley-in-Arden, UK
Posted by Acoustic Sounds on 04/19/2017 at 4:22 PM | Categories: