Amused To Death 5.1 Surround reissue wins Grammy Award
The 2015 album reissue of Amused to Death featuring a new 5.1 surround remix completed by longtime Roger Waters / Pink Floyd collaborator and co-producer, James Guthrie, won the Grammy for Best Surrround Sound Album at the 58th Annual Grammy Awards in Los Angeles Monday night.
The trophy went to the team of Guthrie and Joel Plante for their contributions: James Guthrie for surround mix engineer; James Guthrie & Joel Plante, surround mastering engineers; James Guthrie, surround producer (Roger Waters).
An unblinking look at an entertainment-obsessed society, Amused to Death addresses issues that have only grown in complexity and urgency over the past two decades. With Amused to Death, Roger Waters sounded the alarm about a society increasingly — and unthinkingly — in thrall to its television screens. Twenty-three years later, Amused to Death speaks to our present moment in ways that could scarcely have been anticipated two decades ago. In 2015, television is just one option in an endless array of distractions available to us anytime, anywhere, courtesy of our laptops, tablets and smartphones. With eyes glued to our screens, the dilemmas and injustices of the real world can easily recede from view.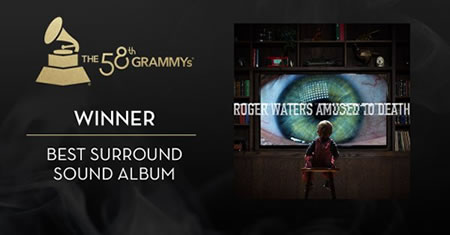 The award was among those announced during the pre-telecast awards ceremony show, at the Nokia Theatre in Los Angeles.
To purchase your copy of the Analogue Productions' Amused To Death SACD featuring the Grammy-winning surround mix click http://store.acousticsounds.com/s/409.
Posted by Acoustic Sounds on 02/16/2016 at 9:05 AM | Categories: