Acoustic Sounds transforms home audio again!
From Acoustic Sounds, the world leader in audiophile music sales, comes the highest quality analog reel-to-reel tape, album reissues — Analogue Productions Ultra Tape! Twelve masterpiece titles are featured in a new reissue series, each a 15 inch-per-second, 1/4-inch analog tape copy sourced from a copy of the original analog master tape. Transferred real time, using an ATR-modified Ampex Tape Machine with flux magnetic heads. Each copy is housed in a custom slipcase cover.

The first two titles — Janis Ian's Breaking Silence and Ben Webster's Gentle Ben — are slated to be released before 2016 ends. Analogue Productions is the vinyl, SACD and now audio tape reissue label owned by Acoustic Sounds. 
The remaining titles include: Rickie Lee Jones' It's like This / Hugh Masekela's Hope / Rachmaninoff's Symphonic Dances (the famous Turnabout recording) / Fritz Reiner and the Chicago Symphony Orchestra's Scheherazade (RCA Living Stereo) / Fritz Reiner and the Chicago Symphony Orchestra's Pines of Rome and Fountains of Rome (RCA Living Stereo) / Leopold Stokowski's Rhapsodies (RCA Living Stereo) / René Leibowitz and the Royal Philharmonic Orchestra The Power of The Orchestra (RCA Living Stereo) / Fritz Reiner and the Chicago Symphony Orchestra's Lieutenant Kije and Stravinksy's Song of the Nightingale (RCA Living Stereo) / Abel /Steinberg - Beethoven Violin Sonata (Wilson Audio) / and Lowell Graham's Winds of War & Peace (Wilson Audio).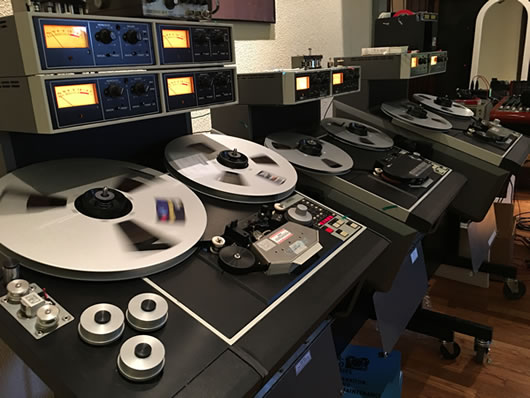 Each reissue copy is priced at $450. The entire series is available by subscription and subscribers will pay for 11 titles and receive the 12th one free!
"For more than a year, at every trade show and on more and more phone calls and emails, our customers are asking us: 'When are you going to start selling tape?!" says Acoustic Sounds owner and CEO Chad Kassem. "Audiophiles are buying tape machines but they have hardly any music to play on them. They've got the cars, but they need the fuel. We're working to satisfy that demand."
Acoustic Sounds has enlisted Gus Skinas, of the Super Audio Center in Boulder, Colo., to handle the tape transfers, which are made using the Ampex Tape Machines in the control room at Blue Heaven Studios in Salina, Kan.
Simple reasons make tape the next big thing in high-end audio. Tape offers greater dynamic range, especially at the frequency extremes — it's the closest to hearing the master tape. Tape requires minimal signal processing. And no amount of upgrading a home audio system will improve the sound quality as much as putting on one of the Ultra Tape reissues from Analogue Productions. This truly is recorded music the way you've never heard it before!
Posted by Acoustic Sounds on 10/05/2016 at 9:11 AM | Categories: