One for the Ageless—Myra Turns 93!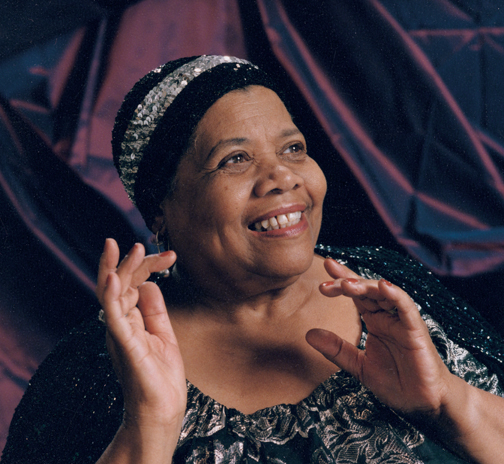 It's time for a special blues and jazz bash! Kansas City's musical matron, Mama Myra Taylor, invites everyone to celebrate her 93rd birthday with a party at Knuckleheads, 2715 Rochester (www.knuckleheadskc.com), on Wednesday, Feb. 24th from 6 to 9 p.m. Admission is free before 8 p.m., $5 after.
Myra is one of the ( if not the only) last living links to Kansas City's golden age of jazz, getting her first big break with Harlan Leonard's Rockets around 1940. By 1946, she had written and recorded her signature tune "The Spider and The Fly." Other original compositions include the magnificent "Still Blue Water" and the lugubrious "Take It Easy Greasy." She has literally been around the world—from the Chinese Palace in Juarez, Mexico, to tours in Asia and Africa, to her "Down By the Riverside" club in Frankfurt, Germany.
Myra returned to Kansas City in 1994 and, thanks to the good offices of stalwarts like Chuck Haddix and Dawayne Gilley, she eventually recorded her CD "My Night to Dream" on Chad Kassem's Salina-based APO Records in 2000. She continues to be active, from playing the Rhythm and Ribs Festival in 2008 with The Blues Notions to a regular spot at Jardine's with the Wild Women of Kansas City (Lori Tucker, Geneva Price, Millie Edwards), who will also honor Myra at their regular Jardine's Saturday gig on Feb. 27th (www.jardines4jazz.com), complete with cake—two shows: 6 p.m. and 8 p.m.
Music for Feb. 24th, the night of her birthday, will be provided by The Bluesicians, a newly-organized aggregation of veteran players with histories in groups like Cotton Candy and So Many Men, the KC Bottoms Band, Stevie and the Jive Tones and The Blues Notions. John Coakley fronts the band on guitar and vocals. Keyboard duty is handled by organist "Professor" David Creighton. Steve "Backbone" Ramsey anchors the Bluesicians on Fender Bass, and longtime groovemaster Mike Harvey mans the drums. This author will also be featured on vocals and harmonica, plus the Birthday Girl herself is expected to perform a few selections.
Special thanks is due to Frank Hicks for providing Knuckleheads as a venue for this annual celebration. Other gratitude is extended to the Wild Women, Jim O'Neal, Myra's drivers Charles Freeman and Maria Mullen, her three unofficial "daughters" Lou Dare, Connie" Crash" Humiston and Brenda Haskins, as well as photographer Evie "Cousin Mavis" Quarles. Finally, thanks again to Chuck Haddix, Dawayne Gilley and Chad Kassem for their vision—and to all of Myra's fans and admirers in Kansas City and throughout the world. Please help celebrate a true Kansas City musical treasure who lives the old adage"age ain't nothin' but a number."
If you're unable to attend the Knuckleheads or Jardine's celebrations, you can mail cards to Myra Taylor at 2527 Euclid, Apt 118-C, Kansas City, MO 64127. And our special Birthday Girl wants you to know that she deeply appreciates people's love and support year round: "I just wish I had a way of thanking people—Frank and Mary at Knuckleheads, Beena at Jardine's, the Wild Women, Bill Maness, all musicians, Charles and Maria, Chuck Haddix, everyone at Blue Heaven Studios in Salina, my church members at Shalom Baptist Church, so many friends and fans, my nephew Edward Ford and his lovely wife, and my family, especially Dawayne, Lou, Connie, Brenda and Evie. I thank everyone from the bottom of my heart—I often just want to cry. It means so much to me. Thank you, thank you, thank you!"
Posted by Acoustic Sounds on 01/15/2010 at 9:46 AM | Categories:
General