Myra Taylor Wins Two Living Blues Awards
Myra Taylor continues to top even the most optimistic expectations. At 85 and with her career recently revived from a nearly-50-year hiatus, it's astounding how much of a wave Myra has made on this year's blues and jazz scenes. The most recent accolades, and perhaps the most substantial in her seasoned life, come with the August issue of the bimonthly magazine Living Blues. According to the magazine,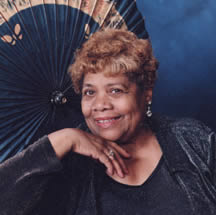 Myra is this year's Queen of the Blues. Critics voted her Female Blues Artist of the Year on a ballot that featured stars Etta James, Shemekia Copeland, Francine Reed and Alberta Adams. What's more, Myra tied with Ike Turner for Comeback Artist of the Year, a category for which her name did not even make the ballot. Instead, she won with write-in votes. Things picked up for Myra beginning with her APO Records release of My Night To Dream last year. Since, she's performed throughout the country. Her CD and performances have been reviewed favorably in several blues and jazz publications and the record has received extensive airplay. My Night To Dream includes hits of Myra's for Mercury Records in the 1940s like "Spider And The Fly," "Take It Easy Greasy" and "Still Blue Water" as well as newer material. CD and SACD versions of the record can be purchased at www.acousticsounds.com. The titles will be available on 180-gram vinyl cut at 45 RPM very soon. With these awards, Myra's career is likely to spike even more. Good thing she's prepared. Following the recording of My Night To Dream, Myra bought a new set of luggage and renewed her passport. Smiling broadly, she said, "You'll never get to Paris unless you go to France."
Posted by Acoustic Sounds on 07/16/2002 at 3:32 PM | Categories:
General