Kenny Wayne Shepherd, Hubert Sumlin, Pinetop Perkins and Chris Layton Visit Acoustic Sounds
by Marc Sheforgen
Between them all, they've literally sold tens of millions of records. But even musicians the status of Kenny Wayne Shepherd, Hubert Sumlin, Pinetop Perkins and Chris Layton were completely floored when they saw the world's largest selection of audiophile recordings. They freaked out even further when we sat them down for a listening session in the Acoustic Sounds showroom.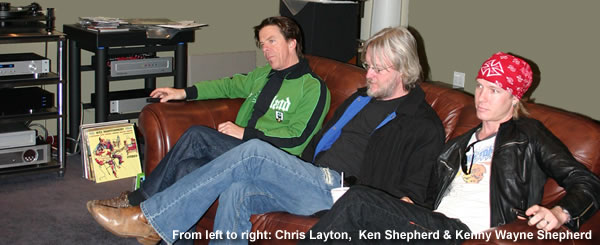 These guys have heard a lot of music, to be sure, but never an SME Model 20/12 Turntable with a Koetsu Jade cartridge, Herron's VTPH-2 phono stage, the Pass Labs X1 preamp and X350.5 power amp and of course the Avalon Sentinel loudspeakers. We listened to the test pressing of the new 10 Days Out...Blues From The Backroads LP. We played for them Stevie Ray Vaughan's Couldn't Stand The Weather, on which Chris Layton provides all the drum work. We spun Hubert Sumlin's I Know You from APO Records and Pinetop Perkins' APO 45-RPM recording from Blue Heaven Studios. Suffice it to say, these guys had never heard their music played back quite like that.
Shepherd and the legends he's showcasing are touring the country in support of 10 Days Out...Blues From The Backroads, a project that was filmed and recorded in part at our Blue Heaven Studios in June 2004. They had a day off between Denver and Wichita, and we're honored that they chose to spend it with us here in Salina. Many of the guys shopped our warehouse, and everybody visited at Blue Heaven Studios and then enjoyed a great dinner that evening. The following night, Shepherd and crew invited a few of us to be their guests at their Wichita show. It's an unbelievably awesome and diverse show, and we highly encourage you to check it out if they pass through your area. The tour is more than halfway complete, but you can see their remaining dates by clicking here.
We take our hats off to Kenny Wayne Shepherd for a highly-commendable project. He's using his status as a platinum-selling, Grammy-nominated recording artist to boost the recognition of some very deserving blues men and women. If you haven't already, we encourage you to check out both the DVD of 10 Days Out, as well as the LP. This is an incredible project, an important look into American music history and some of its lesser-known heroes. We think it's a sure-fire Grammy winner.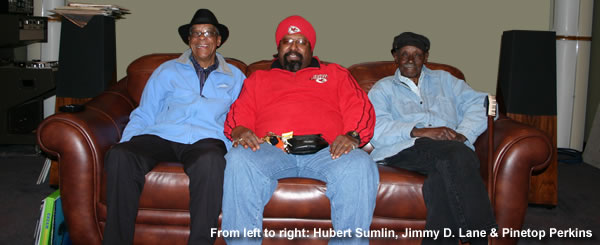 Posted by Acoustic Sounds on 04/12/2007 at 10:20 AM | Categories:
General