It's All Coming Together
Compiled by Julie Hess/Acoustic Sounds, Inc.
The entities of Acoustic Sounds and the common goal that joins them.
Since Volume 5 was published in 1993, much has happened at Acoustic Sounds. Things that have made music-lovers sit up and listen. Chad Kassem's business has been a natural progression from collecting and selling LPs and CDs to reissuing classics and recording new music. He now controls all aspects of his music, including mastering at AcousTech (which he co-owns with RTI's Don MacInnis) and recording at his own Blue Heaven Studios, where he also plans to stage performances captured on audio and video. And all of this with one goal in mind … for the world to hear its favorite performers sound as close to live as possible. Here's a recap of Acoustic Sounds' milestones, the entities that have sprouted from it and projects that lie ahead.
Acoustic Sounds founded
What began as a hobby in Chad Kassem's apartment has grown into a multi-faceted music business. His love for music has become his life's work, and his goal is to share it with the world.
As a hobby, Kassem began collecting hard-to-find, out-of-print and rare LPs in 1983. He moved to Salina, Ks., from Lafayette, La., in 1985 and worked at a couple of restaurants as a cook before landing a job at Philips Lighting Co. through Manpower Temporary Services. Soon he began trading and selling music from his apartment on a part-time basis.
By 1986, his hobby-turned-small business was taking off. When he was laid off at the manufacturing plant, he took "the big leap" and never looked back.
As any entrepreneur will attest, it's not an easy thing, starting your own business. Hours are long and personal sacrifices high. But Kassem persevered, and in less than five years became the world's largest supplier of LPs.
1988 – Business outgrows apartment
It doesn't take much to fill a small apartment with stuff, especially when the stuff is inventory for a mail-order music business. Within two years from start-up, Kassem bought a home with enough space to handle the business. At least for awhile …
In a June 1991 article from The Salina Journal, Ron Sheldon owner of Sheldon's Hobbies in San Jose, Calif., said, "I would call (Kassem) probably the biggest in the world in new and used analog LPs … I deal with companies overseas in England and Italy, and Kassem probably has the best and biggest selection"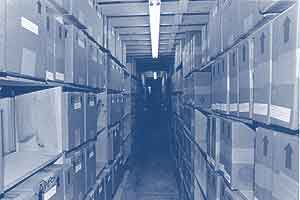 Looking down an aisle of inventory at the Acoustic Sounds warehouse. (Photo by James Fraher)
Kassem starts own label
Kassem added another facet to Acoustic Sounds when he started the Analogue Productions label. He had been distributing music for more than five years and knew how hard it was to find original records that were great sounding and in mint condition. The next logical step was to reissue his favorites. So on Feb. 27, 1991, Acoustic Sounds filed for the trademark of Analogue Productions and it was registered on Sept. 29, 1992. Now, in addition to selling LPs and CDs through a mail order catalog, Acoustic Sounds began re-mastering some of the greatest recordings made, most on 180 gram premium vinyl.
Business moves downtown
Kassem's home business was booming, his house was overflowing with inventory and Analogue Productions was taking off. He had been running his business from his home full time for six years with five employees. In May 1991, the operation was moved into a two-floor warehouse/office space in downtown Salina.
APO records Jimmy Rogers
On Nov. 16, 1993, Analogue Production Originals (APO) recorded its first album. The talent was legendary blues artist Jimmy Rogers. This first recording would win the 1995 W.C. Handy Traditional Blues Album of Year, and whet Kassem's appetite for recording the blues.
Business purchases warehouse
By the summer of '94, Acoustic Sounds had again outgrown its space. The business purchased a warehouse at 1000 W. Elm in Salina, equipped it with offices and moved from downtown. The increasing demand for great music was forcing the business to stock more LPs and CDs. With 8,000 square feet of space they could store it, and with 11 employees to handle overseas and domestic orders, processing and shipping, they could handle the demand.
Mastering facility acquired
Until recently, Acoustic Sounds had its LPs mastered by Doug Sax at The Mastering Lab in Hollywood, Calif. Then in 1994, Wilson Audio's record division went out of business. AcousTech Mastering, a joint venture between Chad Kasssem of Acoustic Sounds and Don MacInnis of Record Technology, Inc., bought the inventory and equipment. The incredible system was upgraded by renowned acoustical engineer Neil Muncy and installed at RTI's production facility in Camarillo, Calif.
The Revival Series
The first project produced by AcousTech was the Analogue Productions Revival Series. On Dec. 18, 1995, the trademark for Analogue Productions Revival Series was filed for and registered on April 22, 1997. The lacquer for each LP was cut by Stan Ricker using the state-of-the-art Wilson Audio Custom Tube Mastering System. With one of the world's finest plating and pressing facilities located in-house, the lacquer was processed within minutes of being cut, before degradation to delicate grooves could occur. Test pressings, generated immediately following the plating process, were meticulously inspected visually and auditioned carefully, before the stampers were approved for use in the limited production run of records.
In July 1996, Stereophile's Michael Fremer wrote, "Talk about having one's ducks in a row. Acoustic Sounds' Chad Kassem has David Wilson's Audio Research tube driven … Neumann SX 74 'Fitted' cutting lathe set up at RTI's … plating and pressing plant. So now veteran mastering engineer Stan Ricker can cut a lacquer, take it down the hall for plating, and have a test pressing in hand with Polaroid-like speed and convenience … There's something for every taste (in the Analogue Productions catalogue), and … (it) offers vinyl fans a chance to explore some great sounding out of the way stuff they wouldn't ordinarily hear … I recently received some test pressings of the first group of 'Revival Series' releases … You'll be in for a musical and sonic treat."
Jimmy D. Lane recorded on APO
In late '95 and early '96, APO recorded Jimmy D. Lane's Long Gone during two sessions at Ocean Way Studios in California. It was well received by reviewers, his style compared to Jimi Hendrix.
Living Blues magazine wrote, "Jimmy D. Lane moves directly to the front ranks of those who will take the blues into the next century."
This recording would be the foundation of an incredible working relationship between Kassem and Lane.
Acoustic Sounds purchases church
That March, Acoustic Sounds purchased an old church in downtown Salina for storage. Built in 1924, the former First Christian Church retained much of its original beauty, but desperately needed repairs. The plaster walls were crumbling due to a leaky roof, the heating system was non-functional and the original wiring was a bit iffy.
A full-time construction crew headed by Robyn Giauque was hired to restore the badly decayed walls and repair the roof and heater.
More than once, Acoustic Sounds ran local building supply stores out of plaster. In the end, it would require nearly two tons of dry plaster to repair the church walls.
Despite its condition, the church served its original purpose — to store the warehouse's overflow inventory.
At one point, Kassem even toyed with the idea of making it his residence. But it wasn't until after the purchase that Kassem realized the church's true potential, and that spring was the beginning of what was to become an Acoustic Sounds milestone.
Engineers test acoustics in church
The church's naturally occurring acoustics were phenomenal. After consulting with Neil Muncy, David Baker and Joe Harley about a live performance, they came to check out the sound quality. And sure enough it was, as Kassem says, "preem."
The church had obviously been built for good acoustics so everyone could hear His word, but these acoustics were extraordinary, perfect for not only a performance hall, but a recording studio as well.
Muncy was hired to engineer the project. Warren Ediger, a local architect, was hired to design the plans for the control room that was to be located at the back of the sanctuary. Giauque, who supervised the renovation, handled the new studio construction as well.
Muncy arrived in Salina in spring of 1997 for the first in a series of trips to work on the studio. His notable specialty is power distribution and proper grounding. As a result of his findings, more than $60,000 was spent on a complete new electrical service into the building. Using only the finest panels, breakers and surge suppression equipment, the studio power system was installed. Finally, in order to acheive the highest standard of performance, the city of Salina installed a transformer designated to provide the studio with its own private power source.
The mixing console is a 36-input Neve 5106, purchased from Fox Broadcasting. It was restored and modified for our own special use. More than 1,000 man hours were required to restore it, upgrading thousands of capacitors and op amps.
The studio's recording area is 77 feet long, 52 feet wide and 40 feet high. For comparison, Abbey Road Studio One is 94 feet long, 55 feet wide and 42 feet high.
Eight huge oak doors with stained glass insets partition an area that was originally used for congregation overflow. Today, those same heavy doors, 4' 8" by 9' 5", and more than 2 inches thick, now close to conceal a state-of-the-art control room loaded with vintage analogue equipment.
As with Kassem's recordings, the original structure of the church remained as untouched as possible. The studio is concealed so well that it is still utilized by local couples for weddings.
Jimmy Rogers performs concert
By August of '97, much of the aesthetic repair work on the church was done, and construction had just begun on the studio. Kassem brought in Rogers, APOs first recording artist, for a live performance.
Although referred to as the "former First Christian Church" (it had not yet been named) people found their way to its location in droves for this intimate performance by a legendary blues artist. There were about 400 seats available including the balcony, and there wasn't a bad seat in the house.
A single performance was scheduled for 8 p.m. on Monday, Aug. 25, 1997, and it was standing room only. No one anticipated this kind of response. Initially, Kassem was a bit nervous investing in a concert. He hoped to break even and was thrilled when it sold out.
Salina loved Rogers and his band, even though some had never even heard of the blues great. And long-time blues fans were in heaven because it was hard for them to believe such talent was performing so close to home. The blues community was starving for quality entertainment, and Kassem planned to serve up a whole lot more.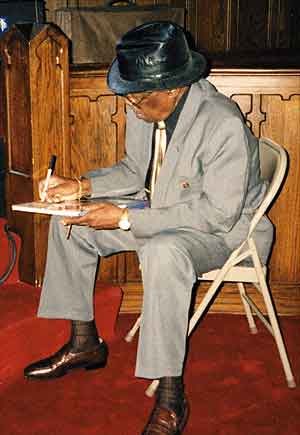 Rogers autographs LPs in the Blue Heaven Studios sanctuary prior to his concert on August 25, 1997. (Photo by Ron Woodruff/Acoustic Sounds)
Blue Heaven Studios christened
It wasn't until early 1998 that the church was officially named Blue Heaven Studios by Joe Harley, producer for AudioQuest and a close friend of Kassem's. And how fitting. Kassem's true passion is the blues, and his goal was to record as many remaining blues legends as he could. Of course new talent was sought as well, but with the original blues masters fading, it became clear that there was work to be done.
"There's no great way to say it," Kassem told the Salina Journal, "I want to record them before it's too late."
As construction continued on the main studio, Muncy worked to create an interim studio. It was located directly below the stage in the church basement, complete with visual and audio communication between the engineer and artist.
BHS records first albums
On Feb. 14, 1998, APO christened Blue Heaven Studios with its first recording. The artist was Chicago blues great Jimmie Lee Robinson.
"Jimmie Lee Robinson had tears in his eyes," said Lane when asked about Robinson's album, Remember Me. "My wife could not believe how it (the CD jacket) looked. That's even before we put the disc in. That package is the closest thing to perfection I've seen."
Kansas City's Little Hatch came to observe Robinson's recording session and ended up laying down tracks for his own recording, Goin' Back.
Although the recordings were captured on analogue in a temporary studio, the acoustics were as pure as expected.
"There's nothing like it, " said David Baker, a highly sought-after recording engineer from New York City.
Stereophile records jazz album
In late August 1998, Stereophile's John Atkinson and Wes Phillips traveled to BHS to do a jazz recording. The album, Rendezvous, features Jerome Harris and and a group representing the best of the progressive New York jazz scene.
Once the recording of Robinson and Little Hatch was complete, Kassem began focusing on another concert. The Jimmy Rogers' concert had been a big hit, so another concert seemed the perfect way to tell the world about Blue Heaven Studios.
Only this concert needed to be a little more than your average concert And it was.
Blues Masters at the Crossroads
The two-day, three-show Blues Masters at the Crossroads featured more than a dozen artists. It was recorded and filmed live, including interviews with the artists. It was a production unlike anything the blues world had seen.
Along with APO recording artists Jimmy D. Lane, Jimmie Lee Robinson and Little Hatch, Kassem brought in legendary blues talents Snooky Pryor, Honeyboy Edwards, John Brim, Willie Kent Frank Frost, Sam Lay, Bob Stroger and Ted Harvey. Allen Batts, Bill Dye and Neil Rosenburg joined the list of legends as band members. Newcomer Eomot RaSun, recently recorded by APO, also performed.
"I wanted to bring the oldest, most traditional blues guys," said Kassem. "My aim was to get the best legends who had ties to the beginning of it all."
Lane, who at 36 was the youngest to play at the concert, is doing his part to preserve traditional blues. "I have my own sound, but I'm going to do a traditional blues cut on every one of my records in the future," Lane said. "There are very few cats able to play that style ... I hope that the people come out and enjoy themselves and get a taste of what the blues is all about."
The crew behind the studio installation had been working non-stop preparing for the concert. Miraculously, they pulled it off with adjustments still being made minutes before the opening act of the first show.
The first show at 7 p.m., Friday, Sept. 18, was sold out. People from all over the states came. The Saturday matinee had just a few open seats, and the Saturday night show was again sold out. The response was staggering, Despite the rural location, people came from all over and many stayed for all three shows. The people received more than a taste of traditional blues — they had their fill.
And not only did the concert-goers fill up, so did the musicians. They were treated to a week-end of authentic Cajun cuisine prepared by Kassem's cousin, Bud Judice, from Louisiana.
Photographer James Fraher captured the event in photos, and John Brisbin, contributing writer for Living Blues Magazine put it into words (see his story in Flyer Update 5.10). Dennis Gagnon and Steve Harvey ran a five-camera crew to film the event and interviews. The event is due out this summer on LP, CD, DVD and video. Kassem is also working with a prominent company on the possibility of developing a television series.
Kassem's true passion is the blues, and BHS is geared to record them in the naturally occurring acoustics of the church. There are still a few finishing touches to be made. Upon completion, the analogue recordings captured in the studio will sound as live as the concerts held there.
Kassem brings it all in-house
At the end of '98, Kassem brought two associates on board full time. Julie Hess joined the staff as designer and Jimmy D. Lane joined Blue Heaven Studios as musical director.
As owner of Barkin' Dog Graphics, Julie Hess had been working with Acoustic Sounds for more than two years, and hired on full time in November. Hess will be assisting Kassem with marketing and enable Acoustic Sounds and Blue Heaven Studios to produce materials in-house. Her offices are located at the studio, enabling her work closely with producers and artists when working on album design.
Kassem has also added a photo studio to capture cover shots and interviews when artists come to record.
Jimmy D. Lane joins BHS
Jimmy D. Lane became music director for Blue Heaven Studios in December. He works closely with Kassem to recruit blues musicians for APO recordings and also helps edit recordings and coordinate events.
There was a minor setback for Lane right before Christmas when he slipped on a patch of ice. The fall resulted in a broken leg that required bolts to repair it.
"I was thinkin' maybe a screw or two, man," Lane said, "but there were six, can you believe it, six!"
After being laid up for nearly two months, Lane is now back on his feet, never missing a session.
Weepin' Willie recorded
On Dec. 18, 1998 APO recorded Weepin' Willie (Robinson) and friends. And make no mistake, Weepin' Willie has friends and this never-before-recorded, 73-year-old blues musician knows how to pick 'em.
Mighty Sam McClain and Susan Tedeschi of Boston accompanied their long-time friend to BHS for Willie's first professional recording, At Last On Time. Mighty Sam even wrote some of the music performed on the album.
Mighty Sam, who co-produced the album with Joe Harley, had a vision of Willie's friends giving him a helping hand. Of helping him up onto his train that was "at last on time."
The incredible Tedeschi joined the session for the first two days and her deep, smooth vocals can be heard on several songs.
The three musicians along with a five-member band enjoyed the hospitality of BHS, an atmosphere not found in most recording studios. Home-cooked meals were served up family-style in the church kitchen. Between sets musicians entertained themselves with pool, ping-pong, darts or television. Many simply relaxed in the musician's lounge next to the control room where they could observe the recording in progress on the closed-circuit television.
APO records Honeyboy and Robinson
Just completed are two recordings at BHS from APO. Honeyboy Edwards and Jimmie Lee Robinson traveled to Salina on Feb. 19, 1998, for a four-day recording session engineered by Katsuhiko Naito. This was Honeyboy's first recording for APO and Robinson's second.
Madison Slim, a harmonica player from Wisconsin, Jimmy D. Lane and local drummer Bert Polk joined in on the sessions.
Robinson is fast becoming a favorite at BHS and teases Jimmy D. about moving to Salina.
These sessions are among the first to be recorded to true DVD audio and video. Kevin Halverson of Muse Electronics flew in from California to oversee the recordings.
What's ahead
As for the future, Kassem plans to keep recording and distributing music. With the help of his multi-talented staff, look for things to continue to snowball.
Currently in the works is a web site that allows customers to order via the Internet. This project is headed by Acoustic Sounds systems manager Ron Woodruff. Woodruff is also working as assistant engineer for APO recordings at Blue Heaven, and also runs around with camera in hand to capture candid shots utilized in publications and on the web site.
At the studio, APO is planning their second recording of Nancy Bryan and Stereophile is planning a recording of clarinetist Antony Michaelson, owner of Musical Fidelity. This will be their second recording at BHS.
And finally, plans for making Blues Masters at the Crossroads an annual event are under way. The original Blues Masters at the Crossroads concert was a huge musical feat, meant to gain the spotlight of the blues society, and it accomplished just that. The concerts to come will be showcases of the artists recorded at Blue Heaven Studios by APO. The annual concert will also serve as a means to document the studio's recording history.
As for Kassem, for those of you who know him, who knows what he'll do next.
Andy Grigg of Real Blues magazine recently wrote, "Chad Kassem is a remarkable fellow. He has one of those rare attitudes that will not let anything stop him from realizing plans/schemes and he tirelessly strives for perfection. The man will simply not settle for anything less than the absolute best and he expects the same of the others he works with. His accomplishments with his Acoustic Sounds label and his fantastic studio in Salina, Kansas (Blue Heaven Studios) are nothing short of amazing. He is going places. Look for him to become the most successful blues label operator in America very soon. All this is very evident from the contents of his recent Acoustic Sounds catalog …"
Posted by Acoustic Sounds on 03/01/1999 at 4:10 PM | Categories:
General