Henry Townsend 1909-2006
Marc Sheforgen
Henry Townsend, the legendary bluesman from St. Louis, died Sunday, September 24 near Grafton, Wisconsin, where he helped to shape history on the famed Paramount Records label 75 years prior. He was 96.

Townsend died of pulmonary edema in a hospital just south of Grafton, where he was honored and scheduled to perform over the weekend. Townsend cut "Doctor, Oh Doctor" and "Jack Of Diamonds Georgia Rub" for Paramount in 1931. The village of Grafton, which sits near the shore of Lake Michigan in Southeast Wisconsin, became a mecca of sorts for Prewar blues recording once
the New York Recording Laboratories company established a studio there in the 1920s. Paramount was among the very first blues record labels and is perhaps the most important historically. On a roster that includes Son House, Skip James, Blind Lemon Jefferson and Blind Blake, Townsend was the last surviving Paramount artist. His death marks the official end of an era.

Townsend, who first recorded for Columbia Records in 1929, is the only known artist of any genre to have recorded in eight consecutive decades. He's also among the very last to have performed with the mythical legend Robert Johnson. Townsend last recorded in 1999 at Blue Heaven Studios in Salina, Kansas. The resulting My Story was released on the APO label in 2001.

Townsend performed, though with increasing infrequency, up until his death. He was in Grafton as the honored performer for the first Grafton Blues Festival. On Friday, he became the first inductee onto the Paramount Plaza Walk of Fame. He was hospitalized hours later. Reportedly, Townsend lobbied doctors unsuccessfully to be released from the hospital to make his scheduled Saturday performance. His son, Alonzo, spoke from the stage on Townsend's behalf and said that Townsend planned to attend a ceremony in his honor at Noon Sunday. Instead, Alonzo attended and accepted a plaque on behalf of his father. He then delivered it to Townsend's hospital bed, where the blues legend was still awake and able to appreciate the honor. But his condition worsened, and Townsend died Sunday night.

Townsend was born October 27, 1909 in Shelby, Mississippi and grew up in Cairo, Illinois at the southernmost tip of the state. In 1921 when he was 12, Townsend blew snuff into the eyes of a cousin, and to avoid a beating from his father, left home for nearby St. Louis. Townsend became enamored with the work of guitar icon Lonnie Johnson and as a teenager took up the guitar himself. In 1929, St. Louis music storeowner Sam Woolf arranged an audition for Townsend with Columbia Records. Townsend was sent to Chicago to record what are now highly collectible sides for Columbia, and so began a long and historic recording career. Two years later, Townsend's longtime associate Roosevelt Sykes brought Townsend to the attention of Paramount Records.

While Townsend was initially known as an innovative guitarist with trademark rhythmic variations, he and pianist Sykes agreed to each teach the other his instrument. Townsend then established himself as much on piano as he did guitar. He recorded on both instruments for the RCA Victor label in the 1930s.

In 1937, Townsend, Big Joe Williams, Robert Nighthawk and the original Sonny Boy Williamson traveled to Aurora, Illinois to record one of the most important sessions of the Prewar period for the Bluebird label. The songs from that session went a long way towards influencing the direction of the genre, particularly as Williamson's harmonica work transitioned that instrument from an accompanying role to that of a lead instrument, joining the guitar and piano.

After a couple of years in the Army, Townsend stayed in Chicago for three years but moved back to St. Louis in 1947. There, he hooked up with his old cohort Walter Davis and played clubs with Henry Brown. He and Davis recorded Townsend's signature song, "Tears Came Rolling Down" for RCA Victor in 1952.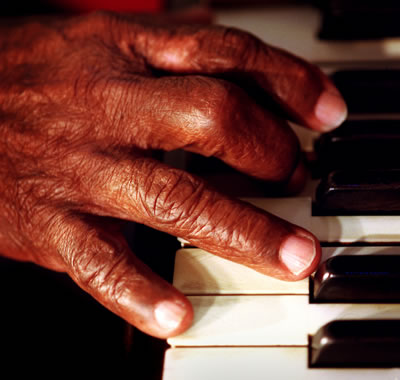 Through the ensuing decades, Townsend recorded for several labels, including Bluesville, Bullet, Wolf, Swingmaster, Nighthawk, Arcola and APO. He was revered for his incredible ability to create songs on the spot, literally inventing lyrics as the tape rolled or while he was onstage. He sometimes drew inspiration from current events or even from something he'd see as he was singing. His songs were so unique, even to himself, that he often times could not perform the same number twice.

In 1985, the National Endowment for the Arts awarded Townsend the National Heritage Award, the highest honor the United States of America bestows upon an artist of the Traditional Arts.

He also became the Patriarch of the rich St. Louis blues scene and was celebrated over and over at that city's festivals and club gigs. Townsend's birthday party each October became a huge happening at St. Louis' BB's Jazz, Blues and Soups club, where performers and fans came from around the country each year to pay homage.

Townsend became a mentor to scores of upcoming blues musicians and talked often about how he enjoyed spending time with young people, hearing about their plans for the future. He was generous with stories about times long gone and thrilled blues enthusiasts with firsthand accounts of the early years of the blues and what some of the genre's biggest pioneers were like in person. Townsend was full of wise sayings and analogies - most all of them, like his songs, originals. He was affectionately known as the Mule, a name that spoke to his refusal to change the style of his music and to his stubbornness when it came to business dealings.

"You start out in this world alone," Townsend said. "And you may be right or wrong. But if you take anybody's advice, let it be your own."

Funeral services for Henry Townsend are scheduled for 11 a.m. Monday, October 2 at the Mt. Nebo Baptist Church, 4981 Theodore, St. Louis, Missouri 63115. The church phone number is 314-389-2269.
Posted by Acoustic Sounds on 09/28/2006 at 11:09 AM | Categories:
Notices