Heard It Through The Grapevine?
Story by Marc Sheforgen
You've likely heard the buzz about these CCR reissues. Take a look behind the scenes at the work of mastering and cutting engineer Kevin Gray.

Kevin Gray may just be the least known of this industry's heavyweights.

That's cool by him. Just let him keep working. Thirty years in, and with credits on multiple albums gone platinum and Grammy, Gray looks back on a career as a mastering and cutting engineer with the same bashful pride as a modest pro athlete. He realizes he's living his dream. He knows most everyone he passes in life can't say the same. But unlike the athlete, Gray passes with notice only from the hardcore.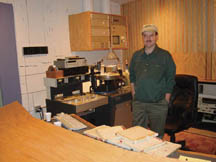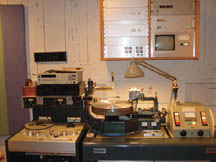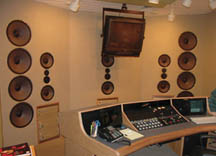 AcousTech Mastering's newly remodeled facility, envisioned and designed by Kevin Gray, located inside Record Technology, Inc., Camarillo, CA.


Again, why should that concern him? He's a modest man, quiet even, and he's giggling on the inside about the beauty of his life.

"I just cannot imagine doing anything else," Gray said. "I really can't."

Still, it's perhaps time that the buying public take notice of who's been behind the cutting lathe cranking out classics for so many years, including the new Creedence Clearwater Revival vinyl reissues from Analogue Productions. Gray, an otherwise good student, began skipping high school classes at age 16. You might say he was pursuing a more applicable education. He would head to the nearby Artisan Sound Recorders mastering room in Hollywood, where he had a running invitation, and watch the engineers cut legendary albums like The Doors' L.A. Woman and Morrison Hotel. A certain thrill for any adolescent rock fan of the time, hanging at Artisan hit Gray even harder.

"The minute I walked in the door, I said, 'Man, this is what I want to do for a living,'" Gray recalled. "Everything just kind of evolved from there."

That evolution has produced a discography that includes hit after hit on either original or reissue by the likes of America, The Beach Boys, ELO, The Grateful Dead, Freddie Hubbard, Billy Joel, Buddy Guy, Buddy Holly, Creedence Clearwater Revival, Cream, Elton John, Miles Davis, Lightnin' Hopkins, Bonnie Raitt, Jethro Tull and on and on.

Gray was a full-fledged mastering engineer at Artisan by age 18, likely the youngest in the country at the time and perhaps marking audio-engineering history. He worked from 1975 to 1979 building the equipment for his own cutting room, which he operated from '79 to '82. In 1977, he launched his own record label, Cohearent Sound, by cutting a relatively famous direct-to-disc by Victor Feldman. In My Pocket sold over 10,000 copies. Not bad for a young man who admits that he barely understood the magnitude of what he had done.

"I just called (Feldman) cold," Gray said. "I said, 'Hey, I'd like to do a direct-to-disc recording with you.' We did this because we were looking for something fun to do. Looking back on it, it's totally hilarious that it ever happened."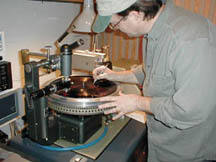 Kevin Gray scribing a freshly-cut lacquer of Creedence Clearwater Revival.


But it did, and Gray's career was off and running. With the CD on the horizon, he took a position in 1982 as Chief Mastering Engineer at MCA Records. That's where he met Steve Hoffman with whom he remastered all of the famous DCC Gold CD reissues from 1989 to 1995. Gray also cut all but one of the DCC vinyl reissues. He ended up at Future Disc in 1995 and handled their vinyl remastering until October of last year. That's when he became part-owner of AcousTech Mastering along with Don MacInnis of Record Technology, Inc. and Chad Kassem of Acoustic Sounds.

"I really wanted to be a part-owner of a mastering facility, and I wanted to be able to build a room the way I envisioned a room," Gray said of coming to AcousTech. "I've never built a room of this magnitude, in terms of both the analog and digital capabilities."

Gray built the cutting system from scratch, including transformerless, discrete, Class-A amplification from tape head to cutter head. It features a Neumann VMS 66 lathe with the finest add-on computer that allows Gray to adjust groove spacing and to get the maximum amount of density onto each disc. The system also includes a Technics SP-02 turntable motor that features high torque with low rumble.

All told: "It actually cuts a better-sounding record," Gray said. "It really does."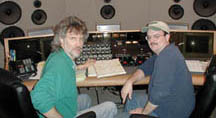 Steve Hoffman (left) teamed with Kevin Gray to re-master five Creedence Clearwater Revival albums for Analogue Productions.


In fact, Gray is confident that forthcoming remastered products by AcousTech will stun the audiophile audience.

"I think they're going to hear the best sound that they have ever heard from some of these upcoming reissues," Gray said.

His first projects at AcousTech include a LP by Prokofiev and one by Mozart for Cisco Music as well as the deluxe Ella Fitzgerald Sings the Gershwin Songbooks box set, John Coltrane/A Love Supreme and John Lee Hooker/It Serve You Right To Suffer for Speakers Corner.

And of course there's the brand new Creedence Clearwater Revival LP reissues by Analogue Productions. The five most-popular CCR titles have been remastered and are available now on 180-gram vinyl pressed at Record Technology, Inc. Those records are not only some of Gray's personal favorites, but he is also very familiar with the master tapes. Gray and Hoffman remastered five CCR titles for DCC Gold CD, and Gray cut Willy and The Poorboys for DCC vinyl.

Again, Gray teamed with Hoffman for these Analogue Productions reissues. They collaborated on the remastering, and Gray did the cutting. All told, the tandem spent about 32 hours on the project. By Gray's account, they had a ball.

"This was a thrill," Gray said. "They're (CCR) one of my favorite groups from the Sixties. This was the first time either of us had actually sat down and worked on five recordings in a row. It was interesting to hear the evolution of Creedence as a band."

Gray's vote for best CCR title: Willy and the Poorboys. "It's one of my favorite albums musically and sonically," he said. "I think it's the best of the Creedence. In fact, it was one of the first records I ever bought. It was really a thrill to work on this one."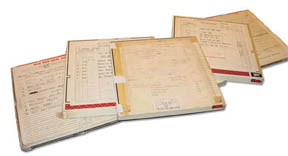 Posted by Acoustic Sounds on 03/01/2002 at 3:36 PM | Categories:
General