Harry 'Big Daddy' Hypolite
by Marc Sheforgen
"I've never come out to the front to do my thing. I'm just doing mine now. I don't want to be no rich guy. I just want to live comfortable. That's all. And to love people and to have people to love you."
Harry Hypolite, the natural-born entertainer who in the last several years had finally tasted life as an in-demand bandleader, died Wednesday, June 22, the result of a car crash near Baton Rouge, Louisiana. He was 68.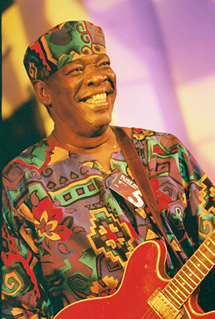 The guitarist nicknamed "Big Daddy" had worked as a sideman for more than 40 years, most notably in the bands of the Zydeco great Clifton Chenier and later Chenier's son C.J. He moved to the front of the stage around the time that his debut CD, Louisiana Country Boy, was released on APO Records in 2001. The record was nominated for a Handy Award in the category of "Best New Artist Debut" and propelled Hypolite to international acclaim. He performed at some of the most respected blues venues, including the Monterey Bay Blues Festival, Lucerne Blues Festival and New Orleans Jazz & Heritage Festival. Hypolite gained a reputation as a showstopper, using his huge smile and raw, autobiographical blues (some sung in Creole French) to regularly win fans and repeat bookings.
Hypolite, born April 19, 1937, had said in interviews and song that his blues inspiration came starting at about age 12 when he cut sugar cane for $1 a ton around his native St. Martinville, Louisiana. He dropped out of school to work after the fourth grade and didn't learn English until about age 14, speaking until then Creole French. Still in his teens, Hypolite one night climbed atop stacked wooden soda crates and peered through a window of the Dew Drop Inn in St. Martinville to see Guitar Slim onstage.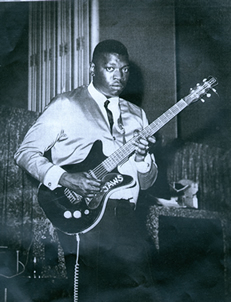 "He'd been drinking some liquor, and he got drunk and couldnt pick his guitar," Hypolite said in a 2000 interview. Didnt nobody know who I was, and I snuck around to the side. I went into the dressing room, and I saw that guitar and I played it. Didnt nobody know I knew how to play guitar.
Hypolite recalled how taken he was by the colorful suits that he used to see Guitar Slim wear. When his time came, Hypolite always dressed sharp onstage, usually in bright and bold colors. He relished the part of showman and used it to great effect.
Hypolite worked part-time as a musician until the early 1980s when Clifton Chenier hired him fulltime for his Red Hot Louisiana Band. Hypolite played all over the world behind the most famous Zydeco artist there's ever been until Chenier's death in 1987. Son C.J. Chenier then took the band's reins, and Hypolite stayed on with the unit until 1999, when he left to join his nephew Nathan Williams of Nathan & the Zydeco Cha-Chas.
Though Hypolite's vocals were featured on several recordings with the Red Hot Louisiana Band, his lone recording as a leader was a long-out-of-print single for the La Louisianne label. That is, until 2001 and Louisiana Country Boy.
"This is like a dream to me," Hypolite said around the time his star was rising. "It really is."
Posted by Acoustic Sounds on 06/23/2005 at 10:56 AM | Categories:
Notices