George Butler 1936-2005
Marc Sheforgen
The great bluesman George "Wild Child" Butler died Tuesday, March 1 in a Windsor, Ontario hospital, the result of a pulmonary embolism. He was 68.
Wild Child was born in Autaugaville, Alabama on October 1, 1936 and earned his blues stripes beginning in the late 1950s when he took his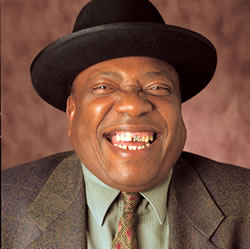 unique harmonica sound and singing from rural Alabama juke joints to the clubs of Chicago. In the late 1960s, he performed mostly in New Orleans and Houston before returning to Chicago and then touring extensively. Wild Child eventually settled in Canada with his wife Elaine, who survives him.
Wild Child's recording debut came on the Sharp label in 1964. Between 1966 and 1968, he recorded singles produced by Willie Dixon for Jewel Records. He later had releases on Mercury, TK Records, Charly, Rooster Blues, MC Records, Bullseye Blues and APO Records. His final record, Sho' 'Nuff, was released in 2001.
Wild Child's performance resume includes tours with Jimmy Rogers, Sam Lay, Lightnin' Hopkins, Cousin Joe and Roosevelt Sykes. He also played periodically with Muddy Waters, Howlin' Wolf, Willie Dixon, Jimmie Lee Robinson, John Lee Hooker, Sonny Boy Williamson II and many other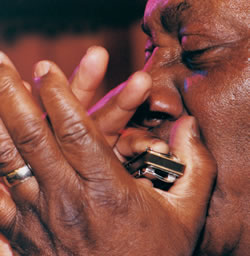 famous bluesmen. George Butler came upon his nickname even before he could walk. The little boy took to harassing the women who visited his mother in their rural Alabama shack. He would crawl across the floor and pull on their skirts and legs until the women began telling Beatrice Butler that her son was "a wild child."
From the time Wild Child picked up the harp at age five, he played it upside down. Not until about 25 years ago did somebody tell him that the high notes were supposed to be played on the right side of the harp. By then, Wild Child had developed his upside down sound, and that style combined with his syncopated singing has been tough to pigeonhole.
"They've always called mine the swamp sound," Wild Child said in 2001. "It's not too fast and not too slow. They calls it snapping blues. I was told from Willie Dixon that I had a way-out strange voice. He said he could hear it between Howlin' Wolf and Lightnin' Hopkins. He said ain't nothing been around like that."
Dixon also once told Wild Child: "You are the moan of the suffering woman, the groan of the dying man. You ain't nothing but the blues."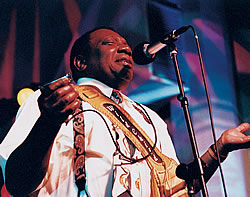 Wild Child was a very talented songwriter who performed and recorded almost all originals. He and APO Records were planning another recording session when he died. Wild Child had finished writing all of the songs. To those who knew him, Wild Child will be remembered for his exceptional kindness. He had a child-like innocence and enjoyed laughing about simple observations. He sincerely cared for his friends and checked up on them regularly, even those who never checked on him. APO Records appreciates him as an always-loyal friend who shared generously of his time and talent.
Posted by Acoustic Sounds on 03/01/2005 at 10:59 AM | Categories:
Notices