Enthusiasm, Support For High-Res Music Great At RMAF
They came, lured by the promise of digital music convenience without sacrificing analog-quality sound. Audience members who packed the audio exhibition room at Rocky Mountain Audio Fest where Acoustic Sounds demonstrated its SuperHiRez DSD/PCM music download site listened intently. Smiles and nods of affirmation left no doubt that the promise was fulfilled.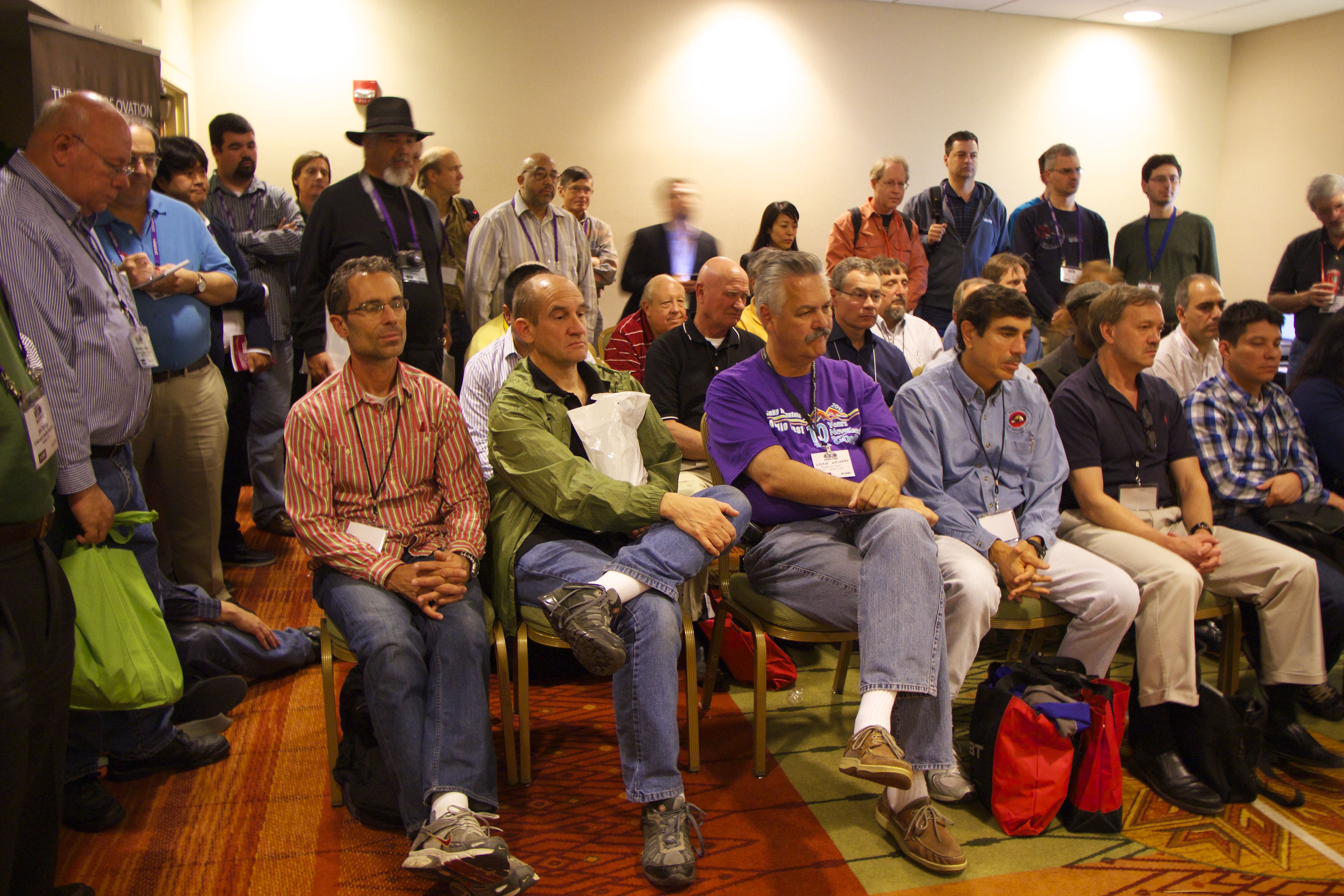 "We recognized a void, and that was mainstream, major label content offered in DSD download (format). Previous to our site, DSD downloads were limited to boutique, audiophile recordings, often times excellent recordings and excellent music, but by and large not music that people outside of this show or the audiophile space may have heard of or may have been familiar with," Acoustic Sounds Operations Chief Marc Sheforgen told the audience. 
The number of equipment makers — and there were many at this year's Audio Fest in Denver — exhibiting devices supporting PCM and DSD (Direct Stream Digital) downloads, were evidence of Positive Feedback's David Robinson's comment about high-resolution playback that "we've gotten a glimpse of how good this can be."
Robinson moderated a panel discussion at RMAF where he started by telling the audience that "DSD has now been successfully decoupled from SACD optical delivery." With download sources such as SuperHiRez.com expanding their content rapidly, the hope is that more manufacturers will develop tools to make recording in DSD common, thus enriching the content available even more, he and other panelists said.
Here's a roundup of observations shared during the discussion, featuring a Who's Who of content providers, audio engineering and digital playback experts, including Acoustic Sounds'/SuperHiRez.com's founder and CEO Chad Kassem.
• Playback Designs' Andreas Koch described DSD as "a digital signal with analog qualities." There's a distinct chance that more makers of studio production tools will see growth in DSD demand as an opportunity for innovation, he said. "That's the bottleneck right now."
• Robinson: Makers of DACs (Digital to Audio Converter) growing. DACs enable the transfer of digital files to play on analog stereo. "I've lost track of the number of people producing DACs. I think the last time I counted it was 32."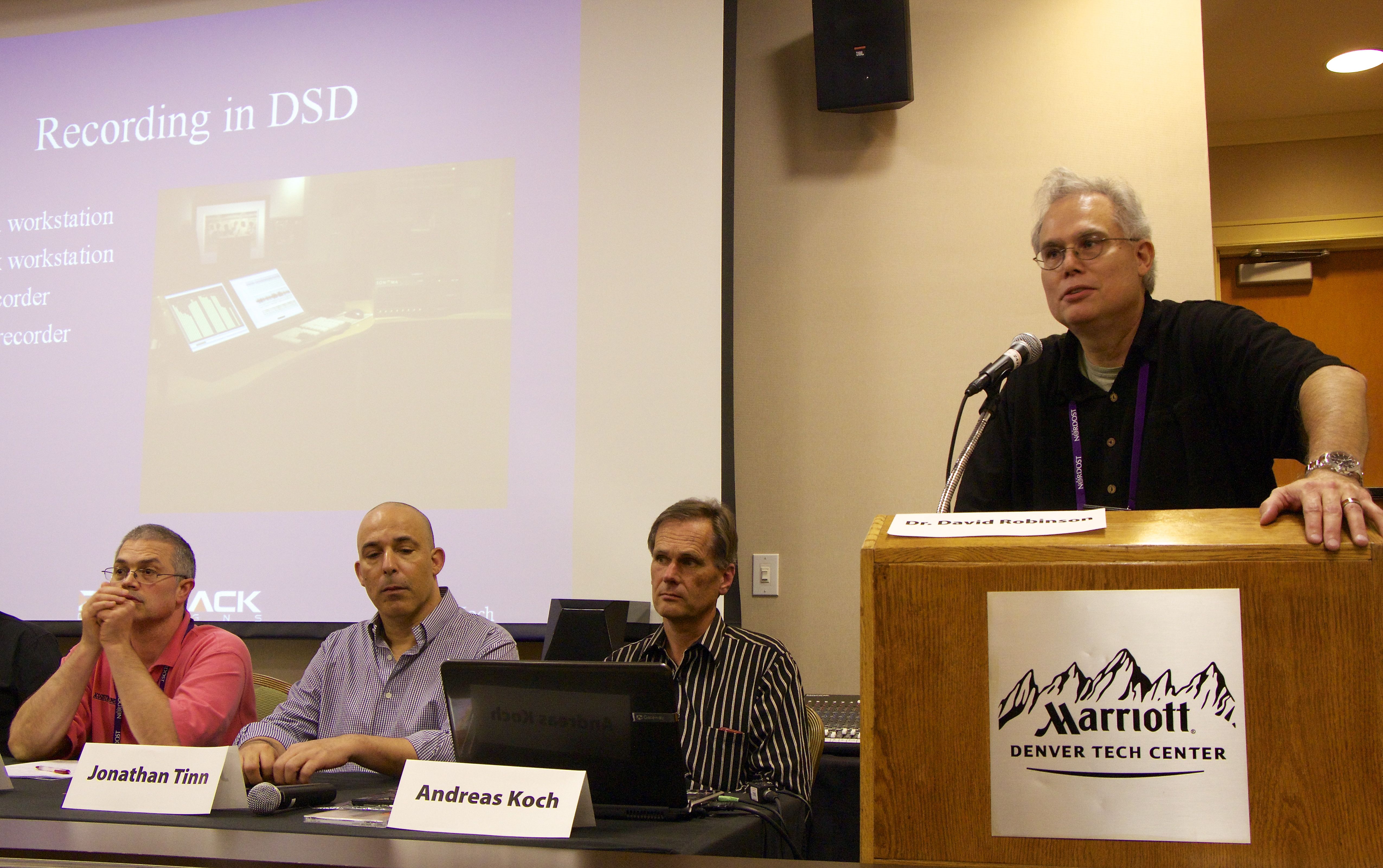 • Robinson: "There's a significant disjunction between what is capable from our (audio) systems and what (recordings) are being produced."
• Acoustic Sounds' Kassem: "Everybody's so worried about numbers — Is it 192, Double DSD, Quadruple DSD and all. First of all, it's the (quality) of the recording. Then it's the mastering. CD really wasn't the problem. Of course high-res is better than CD — but it's the loudness. They just made them (CDs) so compressed." Acoustic Sounds will be transparent about what recording source was used and how its reissued recordings were remastered, when that information is known, he said.
• Kassem: "People who are going to bootleg it aren't going to pay. We're not losing money from people who are passing on music for free." This, in answer to an issue raised about whether major labels would be cautious about providing content in DSD format. Said Robinson — Major labels know that they're going to 'make more money than no money' offering DSD high-res files.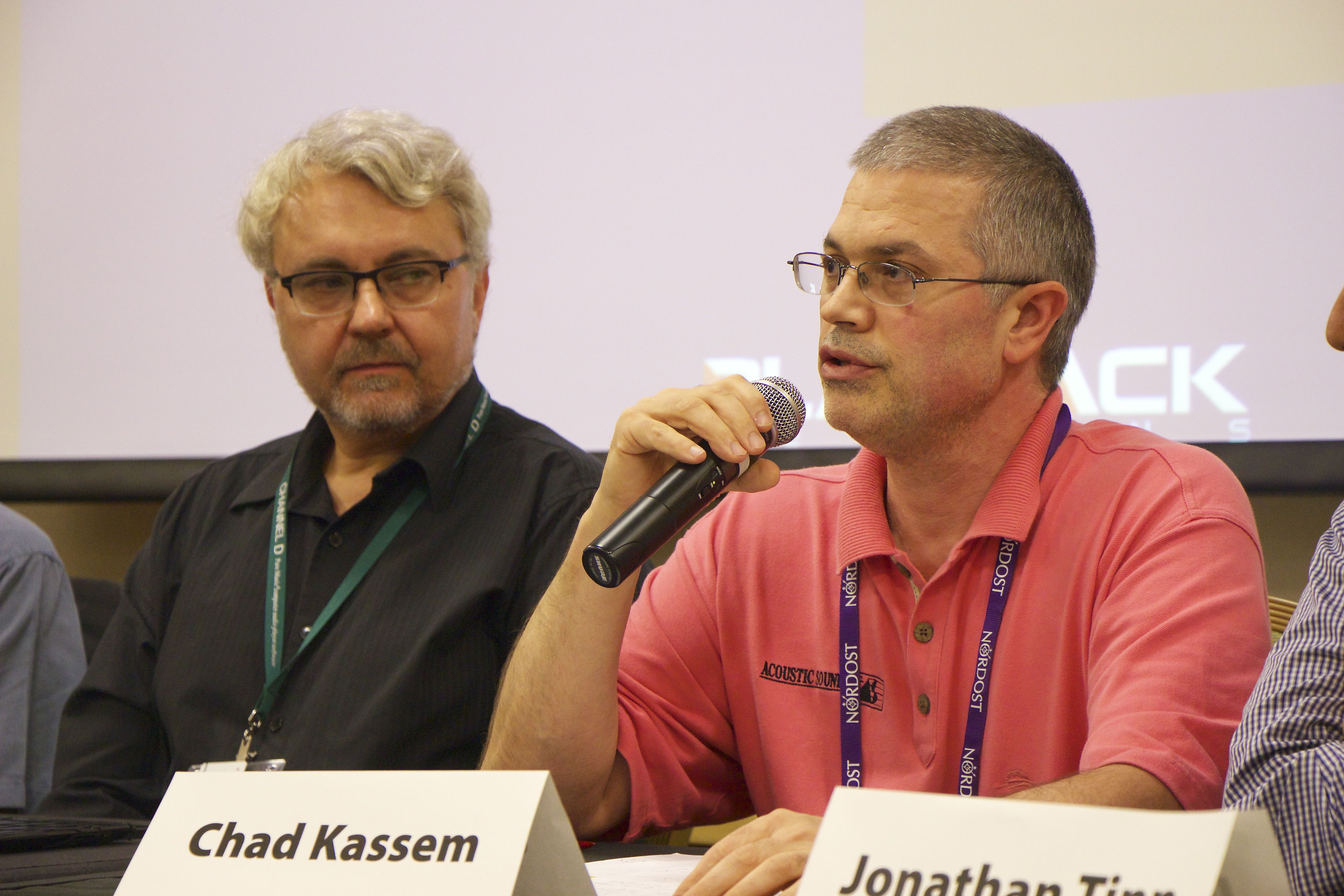 • Mark Finer, music industry consultant: "The real issue is we have a generation of young music enthusiasts who don't know anything about high-quality music files." That needs to change, he said. Robinson followed that thought, saying logic and the industry's business model dictate that music downloads are going to continue to grow and dominate the sale of recorded music.
Finer also sounded a challenge for hardware makers: "We're not going back to an era of making great sound difficult to achieve. It's up to the hardware makers to make it as convenient as possible."
• John Siau, of Benchmark Media Systems made a similiar observation: "That's what the consumer wants — whatever audio format I have, my phone just plays it, my car just plays it, my living room system just plays it, my whole-house system just plays it. I can stream it — it's got to all become transparent to the consumer. They want something really, really good coming down the pipe, but the biggest priority for the consumer is convenience."
Posted by Acoustic Sounds on 10/15/2013 at 8:50 AM | Categories: