Don't Miss Us At The Rocky Mountain Audio Fest
The Rocky Mountain Audio Fest this weekend, Oct. 11-13, at Denver's Marriott Tech Center, is a must-see event for Acoustic Sounds customers. We'll have our usual industry-leading selection of audiophile LPs and SACDs available for purchase in the Evergreen Room. But most exciting, this will be our first chance to show in-person our new Super HiRez download service. In the Bluebell Room, we'll have a live navigation of the site as well as a state-of-the-art playback of files from Super HiRez. Joining us will be Sony Electronics representatives as well as Gus Skinas from the Super Audio Center. You won't want to miss this live look-and-listen.
We'll also have a seminar moderated by our own Chief of Operations, Marc Sheforgen, exploring in depth our new Super HiRez service. The seminar is from 6:15 to 7:15 p.m. Saturday, Oct. 12, in the Bluebell Room. It's your turn to see and hear what all the commotion is about.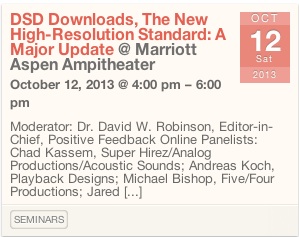 And remember, Acoustic Sounds Founder and CEO Chad Kassem will be among the panelists for a discussion about breakthroughs in DSD downloads and playback technology in 2013. The seminar is from 4 to 6 p.m. Saturday in the Marriott Aspen Ampitheater. Read the details here: https://audiofest.net/new/ai1ec_event/whats-new-with-dsd-audio/?instance_id=198
If you can't make it to the show, you can keep up with updates from the RMAF all weekend on our Facebook page at Acoustic Sounds, our Twitter and Instagram feeds @Vinyl_Lives, and here at our news blog.
The Mariott will host more than 170 exhibit rooms for this year's Audio Fest. It's a feast for the ears, as you can experience demonstrations of affordable separate components and systems to the ultra-expensive high-end gear. A weekend adult pass is $25, and there are discounts for seniors and students. Get the details here: https://audiofest.net/new/registration/
Are you going? What are you most looking forward to?
Posted by Acoustic Sounds on 10/07/2013 at 2:06 PM | Categories: