Blues Masters DSD, Warner Content Mark Super HiRez Anniversary
ACOUSTIC SOUNDS' SUPER HI REZ DIGITAL DOWNLOAD PLATFORM TO OFFER FIRST LIVE BLUES CONCERT RECORDING IN DIRECT STREAM DIGITAL
Company celebrates anniversary with new Warner deal; aims for 3,000 albums by year's end
Acoustic Sounds' Super HiRez™ digital download platform, which was the first to offer mainstream albums in Direct Stream Digital (DSD) as well other high-resolution PCM formats when it launched in late 2013, is about to create another audio milestone.
The company will be in the first in the high resolution audio space to offer a live blues concert recorded entirely in Direct Stream Digital (DSD), which provides 64 times the resolution of CDs and a much more life-like quality than MP3 tracks.
The recording will take place October 17-18 during the 17th annual Blues Masters at the Crossroads festival at Blue Heaven Studios, a sonically superb, 91-year-old Gothic church in Salina's downtown area.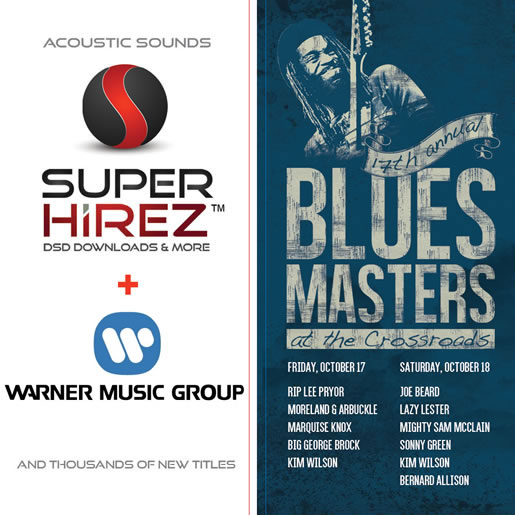 Gus Skinas, digital audio expert and president of the Super Audio Center in Boulder, Colo., will oversee the recording, along with Chad Kassem, the founder of Acoustic Sounds. The recordings in October are expected to be available on SuperHiRez.com in time for the holidays and will be followed by several other recordings captured at the concerts in DSD since 1998.
"Capturing the legacy of some of these Blues performers is very important to me and I really can't think of a better way of capturing the power and emotion of their music than with live recordings in DSD," said Kassem. "We've been doing the Blues Masters shows for a long time and I'm confident these recordings will be treasured by music lovers."
The announcement of the first live concert recording in DSD follows an agreement between Acoustic Sounds and Warner Music Group (WMG) to provide the company's digital download music service with more than 1,200 high-resolution, mainstream albums by some of the most dynamic names in music.
The first wave of hi-res titles from such artists as Led Zeppelin, Pink Floyd, and Tom Petty are available now, with new content being added daily.
"Adding Warner to our existing roster of major labels [Sony, Universal] is a huge win for us, the industry, and for those looking to enhance their high-resolution music collections," said Kassem, who launched SuperHiRez.com last September with just 70 titles. "As far as we're concerned, the more choices in high-resolution music, in both titles and formats, the better." Besides providing music in the highest resolution formats possible, Acoustic Sounds will also provide the provenance of all Warner recordings when available. Additionally, licensing deals continue to be discussed to provide customers living outside the U.S. access to the high-resolution music download service.
"Immersing yourself in a recording that sounds the way an artist, producer or engineer originally intended is an incredible experience. We feel that many will agree, and we look forward to high-resolution audio reaching a wider, growing audience," said President, Artist & Label Services, Warner Elektra Atlantic (WEA), Matt Signore.
There are currently more than 1,700 albums available for download on SuperHiRez.com. By year's end, more than 3,000 albums could be available, thanks in part to the deal with Warner, Kassem added.
Posted by Acoustic Sounds on 09/16/2014 at 3:36 PM | Categories:
General