Be Ready For The Holidays With Great Music!
Thanksgiving. The turkey and trimmings have been served, the pumpkin pie crumbs licked clean and the coffee topped off — by the afternoon many families set the holiday mood by turning on some favorite Christmas music.
Changing weather may be the first sign that Christmas is coming, but music lovers can't help but notice an avalanche of Christmas albums coming to their favorite stores and online shopping sites — here at Acoustic Sounds, there's certainly no shortage of musical holiday delights!
Wrapped In Red from Kelly Clarkson presents 14 tracks that include Christmas classics such as "Silent Night" and "Have Yourself A Merry Little Christmas," as well as original songs like "Underneath the Tree." http://store.acousticsounds.com/d/94519/Kelly_Clarkson-Wrapped_In_Red-Vinyl_Record So which track is Kelly's favorite off the festive record?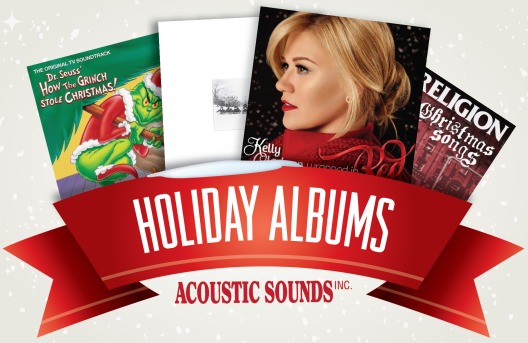 Kelly tells "On Air with Ryan Seacrest": "My favorite classic is 'Run Run Rudolph. … just because it got to be a little more rock 'n' roll."
Clarkson's hardly alone in the holiday spirit. Christmas albums are a big business. In 2011, Michael Bublé's Christmas sold 2.5 million copies, second only to Adele's 21 in sales, while Justin Bieber's Under the Mistletoe sold more than 1.2 million copies, making it the No. 8 album of 2011, according to SoundScan. Holiday discs have become the closest thing to a sure bet for labels and artists because vintage standards such as "Jingle Bells" are in the public domain; coupled with a few copyrighted hits — "Let It Snow" — and one or two new tracks, the costs of production are low and the audience remains eager to buy. Music industry representatives say holiday albums are also less widely pirated.
More anticipated LPs this holiday: The reissue of 2002's A Christmas Album, featuring traditional Christmas songs performed and arranged by Bright Eyes' Conor Oberst and Maria Taylor, with the help of Jake Bellows, Gretta Cohn, Armand Costanzo and many more musical guests. http://store.acousticsounds.com/d/94212/Bright_Eyes-A_Christmas_Album-180_Gram_Vinyl_Record Proceeds from sales of this 180-gram white vinyl pressing benefit the Nebraska AIDS Project.
Few things are less punk than Christmas, but that hasn't stopped the punk prophets Bad Religion from tackling a Christmas album of their own. http://store.acousticsounds.com/d/94641/Bad_Religion-Christmas_Songs-Vinyl_Record Yuletide favorites such as "White Christmas" come off here backed by up-tempo drums, big guitar riffs and stellar harmonies that the band is known for. "God Rest Ye Merry Gentlemen" shows off singer Greg Graffin's vocal range and guitarist Brett Gurewitz's "still got-it" soloing capabilities, reports The Bottom Line. Not everyone's holiday style, but for rockers it's a fun change-up from the usual fare.
How can any child of the television era not appreciate The Original T.V. Soundtrack to Dr. Seuss' How The Grinch Stole Christmas, the original animated special, making its holiday debut this season on colored vinyl. http://store.acousticsounds.com/d/94781/Original__TVSoundtrack-Dr_Seuss_How_The_Grinch_Stole_Christmas-Vinyl_Record "You're a mean one, Mr. Grinch" indeed. The children's book was popular during the late '50s and early '60s, but it achieved a new level of acclaim in 1966 when the television special debuted. Featuring a pitch-perfect cast — direction and production by Warner Bros. Veteran Chuck Jones, narration by Boris Karloff, and the immortal voice veteran Thurl Ravenscroft singing "You're a Mean One, Mr. Grinch," the special packs a lot of material and special moments into its brief 28 minutes. How The Grinch Stole Christmas isn't just a holiday classic, says All Music Guide, it's a classic, period.
These are just a few suggestions to get you started. Check out Rolling Stones' ranking of the 25 Greatest Christmas Albums Of All Time here: http://www.rollingstone.com/music/lists/the-25-greatest-christmas-albums-of-all-time-20121219. A few of our favs from the list you'll find at acousticsounds.com include A Christmas Gift For You From Phil Spector (damaged cover), Elvis' Christmas Album, A Charlie Brown Christmas and The Ventures' Christmas Album. Have a festive holiday season and happy listening!
Click here to see all of our Christmas music!
http://store.acousticsounds.com/index.cfm?get=results&categoryid=Any&searchField=Any&searchtext=christmas
Posted by Acoustic Sounds on 11/06/2013 at 1:42 PM | Categories:
General