Acoustic Sounds Raises Bar With High-Res Audio Service Launch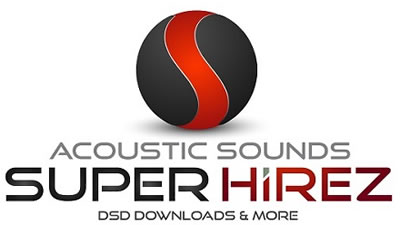 ACOUSTIC SOUNDS HITS HIGH NOTE WITH ADVANCED, HIGH-RESOLUTION AUDIO SERVICE
FOR MUSIC LOVERS SEEKING MORE CHOICES, BETTER SOUND QUALITY
SALINA, Kan. (Aug. 28, 2013) – Similar to the shift to high-definition television from analog, Acoustic Sounds Inc., the worldwide leader in mainstream audiophile recordings, today announced the first high-resolution audio service for enthusiasts that employs the most advanced audio technology available.
The new Acoustic Sounds Super HiRez™ service, available on www.superhirez.com, provides consumers with an alternative to MP3 and other lower resolution digital formats, while answering the needs of audiophiles seeking downloadable music with the same quality only available now on vinyl LPs or Super Audio CDs (SACD).
Using the same resident expertise used to produce its vinyl pressings, SACDs, and their own original recordings, the new service will employ Direct Stream Digital (DSD) technology, which provides 64 times the resolution of audio CDs and a much more life-like quality than MP3 tracks.
"We're excited to be the first company to offer mainstream albums from leading music companies using the DSD format on a website that's optimized for simplicity and ease of use," said Chad Kassem, CEO of Acoustic Sounds. "Those who haven't heard the music they love in this high-resolution format are going to be amazed at the experience." 
While Acoustic Sounds offers music in several formats, uncompressed DSD technology results in music as close to the master recording as possible, with deeper bass, reduced distortion, and an overall higher dynamic range.
Initial DSD albums available for download will include August and Everything After by Counting Crows, Come Away with Me by Norah Jones, Abraxas by Santana, A Love Supreme by John Coltrane, Tea for the Tillerman by Cat Stevens, Patsy Cline's Greatest Hits, and more.  Users will be able to access these titles from a site that's convenient to navigate via an easy-to-use GUI.  A detailed, yet simple-to-use tutorial is also available to assist first-time users. 
Both tools can be utilized to help users download high-resolution content to any PC or Mac. The content can then be easily transferred to virtually any music system and played back via an array of software and hardware options all available directly on the Super HiRez site. 
The goal of the new Acoustic Sounds Super HiRez service, according to Kassem, is to de-mystify the process of downloading high-resolution audio and create a convenient and compelling experience for music enthusiasts.
High-resolution albums will be available starting at $24.99. For additional information, please click on www.superhirez.com or www.acousticsounds.com.
###
ABOUT ACOUSTIC SOUNDS:
Headquartered in Salina, Kan., Acoustic Sounds, Inc. is the worldwide leader in audiophile recordings. Owned by CEO Chad Kassem, the 27-year-old company provides the largest selection of highest-quality music in a variety of formats—from vinyl LPs and Super Audio CDs to digital downloads at SuperHiRez.com—all designed to exceed the expectations of audiophiles in almost 80 genres. The company owns its own record pressing plant, Quality Record Pressings, and operates three different brands of record presses. Acoustic Sounds also owns and operates its own vinyl reissue label (Analogue Productions), an original production label (APO Records) and its own recording studio (Blue Heaven Studios, a converted church). The company has also hosted the annual "Blues Masters at the Crossroads" festival in Salina for the past 15 years.